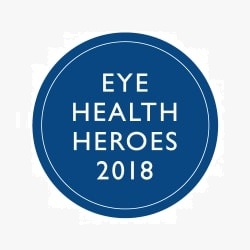 Dr. Kenneth Tuck has had an incredible career as an ophthalmologist, and continues to receive recognition for his hard work and impact on modern vision care and the ophthalmology industry.
This year at the American Academy of Ophthalmology was no different. During the Global Welcome Lunch, Dr. Tuck was given the honor of receiving the Eye Health Hero Award, given by the American Institute for the Prevention of Blindness.
In the year 2000, Dr. Tuck began the Rotary Club Hosts Project, a mentorship program designed to give ophthalmologists in developing countries the opportunity to experience the education programs and technologies that are available each year at the AAO Conference. Through this program, Rotarian ophthalmologists host international guests at their practice a week prior to the conference, giving them the opportunity to shadow and experience a medical eye care practice in the United States. Following the week long shadow, the guests attend the AAO conference where they are able to attend seminars, courses, social events, and more that occur annually at the convention. It is this program for which Dr. Tuck was recognized and awarded.
In the past eighteen years, 122 ophthalmologists have been hosted through this program and given the opportunity to attend the American Academy of Ophthalmology, helping to encourage the exchange of ideas and information across borders.
The Vistar Eye Center would like to extend our most sincere congratulations to Dr. Tuck for the positive impact of the Rotary Host Program on the international community and to thank him for his contributions to our practice.
To learn more about Dr. Kenneth Tuck's award, you can find an article discussing the award on the International Agency for the Prevention of Blindness website.